Fiber OWL 7 series bi-directional certifiers are ideal for the fiber optic professional who requires accurate standards-based certification of fiber links (including configuration of custom standards) and professional certification reports as proof of a job well done.Each Fiber OWL 7 BIDI certifier comes with a matched set of testers (called a METER and INJECTOR), both of which are N.I.S.T. Traceable.

Each unit includes an OPM port (also called "detector" or "receiver") and a source port.

Each set comes in a hard-shell carrying case, and includes protective rubber boots, certificates of NIST-traceability, and a USB flash drive with free OWLView certification software, USB driver, and operation manual.
KEY BENEFITS
CERTIFICATION REPORTS: USED FOR LONG-TERM CABLE SYSTEM WARRANTIES AND ASSURE CLIENTS OF A JOB WELL DONE
INTUITIVE LINK WIZARD: GUIDES THE SETUP AND REFERENCE PROCESS WITH HELPFUL TUTORIAL DIAGRAMS VIA THE COLOR LCD
OPTICAL LOSS TEST SET (OLTS): SEPARATE TRANSMIT AND RECEIVE PORTS ALLOW SIMULTANEOUS DUAL-FIBER TESTING
Testing two fibers at a time:
1) saves time by testing both fibers in opposite directions simultaneously; and
2) allows link length measurement with every test.
Fiber OWL 7 BIDI certifiers have two dual-fiber test modes:
(click the links to learn more about the test modes)
PAIR: both fibers in a pair are certified in only one direction
Cabling standards only require fibers to be tested in one direction, so PAIR mode is the fastest way to certify fiber pairs according to cabling standards.
BIDI: both fibers in a pair are certified at two wavelengths in both directions
Bi-directional testing is not required by standards, but many end-users will request BIDI testing anyway.  BIDI test mode is the more thorough, but is also more complicated and time consuming.

Fiber OWL 7 Series Bi-directional Certifiers are Encircled Flux compliant when used with EF-compliant Mode Controller cables. 
10-GIG LINK CERTIFICATION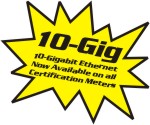 Certify 10-gigabit optical fiber links with several built-in Ethernet link budgets
http://www.owl-inc.com/literature/sub/pdf/datasheets/f7-bidi-ds-v2.pdf